Workshop Leaders: Sarah Taylor, Meg Grant
Workshop Description
A workshop of experimentation using optical fibres. We will show weaving techniques, and participants will be encouraged to try a range of other methods as well (e.g., embroidery, crochet, etc). We will connect the resulting textile samples to both LEDs and photodiodes to create light-emitting and energy-harvesting textiles.
We need to work with a loose bundle of fibres in order to connect the LED or photodiode successfully, so bear this in mind when thinking of techniques you could use. We will provide optic fibres, electronics and a range of paper yarn, wire, adhesives, fabric, looms, etc. If you have special materials you want to use, please bring these with you. Feel free to contact us to discuss ideas beforehand.
Here is a rough outline of the workshop:
First hour
Brief introduction
Initial testing with optical fibres in combination with LEDs + photodiodes
Develop design ideas and techniques.
Next 1.5 hours
Production time! Try weaving, embroidery, whatever you like. Wire up an RGB LED to an Arduino with a pre-programmed display of colours.
Connect your textile to the electronics: a single-colour LED, an RGB LED or a photodiode to create energy.
Last half hour
Share and discuss results.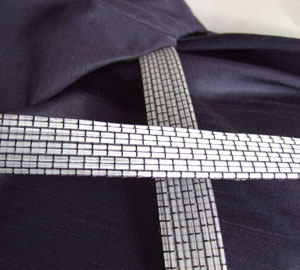 Workshop Report
During the workshop different sollutions of use of optical fibers were developed:
1. A weaving of optical fibers combined with conductive wire (both in warp) and thermo chromic materials inserted. (Author: Beam van Waardenberg)
There was a double action: warming (thermo coloring changing) by applying a voltage and lighting up by fibers. Both were tested at the summercamp and working. At the moment the warming up is failing, I think there is a problem with the conductive threads, corroded? (Author Beam)
See: Fiber Optic Skill share result, Beam

2. A series of weaving of optical fibers combined with textiles. (Authors: Hannah Perner-Wilson-Wilsons, Tincuta Heinzel, Zoe Romano, Priti Veja )
And a random scratch on the surface of the optical fiber :
3. A crochet of optical fibers (Author Kristi Kuusk)
See also the video: here
We also made some tests during the night:
Some other interesting links related to the optical fibers in textiles:
Lumigram Catalogue
Sparkfun
Optical Fiber Workshop from Sächsisches Textil Forschungs Institut e.V. Chemnitz, Germany.