… is the accompanying exhibition for this years "eTextile Summercamp" and gives an insight to current artistic practices, experiments and research endeavors undertaken by the participants of the camp.
The Exhibition takes place at Paillard Centre d'Art Contemporain during the Summercamp 2015.
presenting the following works:
---
Imogen Heap's sound-reactive bolero
Rachel Freire and Hannah Perner-Wilson, 2012
A sound-reactive illuminated bolero, custom made for Imogen Heap's "Me The Machine" Performance in 2012. The circuit is sewn from antique conductive thread and surface-mount LEDs are soldered directing to the thread traces.
---
POV fan
Liza Stark, 2014

What hidden languages do we use to communicate? How are they transmitted through the objects we use? For instance, Victorian ladies discretely communicated with pursuers through their handfan motions.
---
Weaving samples
Audrey Briot, 2015

During my BA in textiles design, I integrate innovant components in my weavings. The more important to weave electronics is to think to of the structure and the composition of the threads.
---
RUAH
Giulia Tomasello, 2012-2013

Through the Open Source philosophy, RUAH is an interactive corset controlled by Arduino. Using the diaphragmatic breath, a stretch sensor catches the move of breath and send a feedback from lilypad to muscle wire, flexinol spring, that inflates and deforms the structure of the corset.
---
GML2KNIT
Martin De Bie, 2015

GML2KNIT is an experimentation around dataviz of graffiti. Using Graffiti Markup Language, the tag record generate a pattern depend on the velocity or the shape of it.
---
Hysterical Bubble II
Anja Hertenberger, 2015

This jacket is the first garment out of the "Hysterical Bubble II" series. As the first series of Hysterical Bubbles it deals with group behavior, structure and personal space.
---
Pixelgroup Library
Ingo Randolf, 2014
Pixelgroup is a library to group pixels in a LED-strip. It is intended to be used in the Arduino framework together with a pixel-strip library like Adafruit_NeoPixel or Adafruit_WS2801 but can be used for any kind of backend.
---
Ultrasonic City
Wendy Van Wynsberghe, 2013
What do you hear in the city? What sounds are only per­cep­tible in the ultra­so­nic realm, where bats and cri­ckets com­mu­ni­cate? Sounds which are so high, our human ears can­not per­ceive them.
---
The Culture Dress
Zoe Romano, 2015
"The Culture Dress" series is a collaboration between media artist Afroditi Psarra and architect Dafni Papadopoulou that aims to combine electronic handicrafts with parametric design and digital fabrication on an ongoing research on wearables.
---
Solo Disco Scarf
Becky Stewart, 2014
The Solo Disco Scarf lets the wearer be a DJ for their own private party. They connect their music player to one end and their headphones to the other.
---
Digimakit
Lynsey Calder, 2014
This research sets out to investigate whether technological innovations in design and the personalisation of textile tourist souvenirs through 3D printing, could offer opportunities to break away from stereotypically throwaway, low quality, mass manufactured products that souvenir consumption is often associated with.
---
Friendship Textiles Tiles (provisory title)
Tincuta Heinzel + Sara Robertson, 2015
The prototype is the result of a residency at Nottingham Trent University in June 2015. The central idea was to build a series of objects for people with mental impairment, objects that can be used during their stay in Oakfield special school, as well as a personalised communication device for after leaving the school.
---
Knitbit [working title]
Becca Rose, 2014/15

These are some samples of knitted swatches made in the round using 5 needles. Some of the stitches (in a section of the knitting called the "steek") are cut to create the flat sample piece.
---
TBA
Jesse Seay, 2015
I will be knitting a working circuit to put on display.
---
Capacitive surroundings
Pauline Vierne, 2013

An environment composed of three sheer curtains which control each a light bulb when touched. The person walk through it and activates the lights depending on its way.
---
Emotional Dialogue
Svenja Keune, 2012 – ongoing

As part of my MA-thesis I developed the objects "Lomelia", "Mocoleme" and "Estoban", that are interactive, textile surfaces, which manifest themselves through movement and noises and call upon the people to communicate with them.
---
I am very happy I hope you are too
Shih Wei Chieh, 2013
"I am very happy I hope you are too" is an e-textile project relates community collaboration and my own fine art practice, a mixture of traditional craft and conductive threads.
---
Rainlovers
Barbro Scholz, 2014

Living in northern Europe, we face rain many days of the year. We love life so we decided to have more fun in the rain. Rainlovers deals with having a good time in heavy weather.
---
Monarch
Kate Hartman, 2014/15

Monarch is a wearable and muscle-activated kinetic textile. It consists of textile forms attached to the shoulders that expand and contract in response to the movement of the wearer's muscles.
---
Involving The Machine Collection
Mika Satomi + Hannah Perner Wilson, 2012

Involving the Machines (ITM) was a research project that resulted in a collection of woven conductive fabrics.
---
Dynamic prints
Celine Marcq, 2014/15

Dynamic print is the beginning of a material research which proposed to revisit the traditional CMYK process printing technique with thermochromics and UV reactive inks.
---
capacitive eTextile sensors
Jussi Mikkonen, 2015

Knitted, laminated and the final woven versions of a capacitive sensor structure. The structure can be used to detect force applied to the surface, as well as identify if it is a user as the source the force.
---
signal to knit
Claire Williams, 2014/15

The Shipibo create their embroidery while chanting a song which is directly stitched onto a textile. In this way, they embed a musical score in a pattern. Each chant is then read and reinterpreted by a shaman in healing rituals.
---
Crafted Logic
Irene Posch + Ebru Kurbak, 2015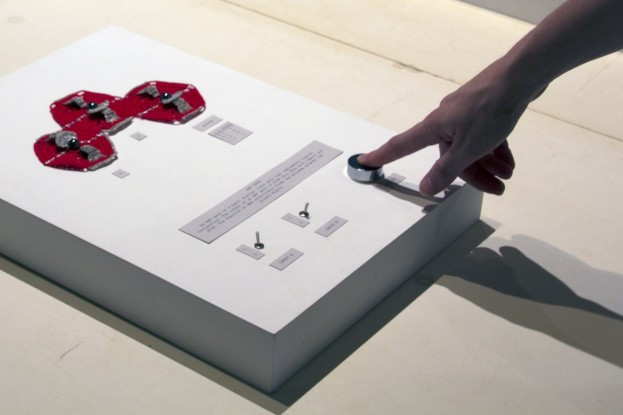 What if digital electronics emerged from textile hand crafts? How would technology be different if craftspeople were the catalyst to the electronics industry, via textiles manufacturing?
---
Woven Sensor Swatches by Blind and Visually Impaired People
Emilie Giles, 2014/15

The traditional approach for developing assistive technologies for blind and visually impaired users is to focus on problems and to try and resolve them by compensating for the loss of vision.
---
Sensory Lines
EJTech, 2015

Sensory Lines examines the relation between, textile, sound and space, rethinking textile as an audio emitting surface as well as an interactive display source.
---
Chameleon mood scarf
Aniela Hoitink, 2015

As the name implies, the inspiration behind the Chameleon Mood Scarf idea came from the chameleon. Contrary to what is widely believed, chameleons do not use their famous ability to change colour to blend in with their surroundings, but rather primarily for social communication and to regulate body temperature.
---
Victory over the Sun
Beam, 2015

Victory over the Sun is one of the artistic results of a research into design & energy harvesting for smart textiles. This silhouet is a game where the energy generated by your muscle power has to beat the energy of the Sun from a solar cell. After winning, both the human player and the Sun can enjoy some nice light effects on the back. Besides that, by making your dress energy self sufficient you gain independence from dirty global energy politics:-)